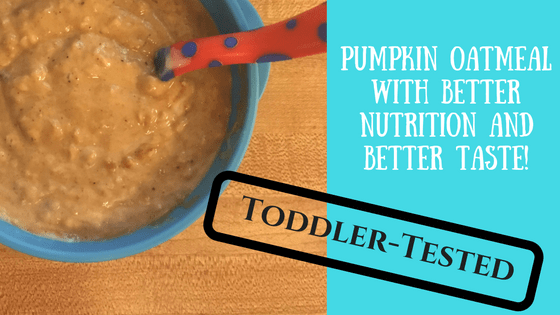 It's officially fall!! I have picked up my first pumpkin latte of the season (#PSL! – ummm yeah … I just did that ….) and have begun putting cinnamon on everything.
In our house, canned pumpkin is a year-round staple. I ALWAYS have several cans in the pantry because it's so nutritious, and so easy to mix into a bunch of foods!
I've got a toddler who just turned 2. Like most toddler boys, he's super active and has no time to eat and no interest in food … and is thus on the skinny side. So, like every other Mom of an active toddler, I am always looking for ways to provide nutrient dense food that he'll actually eat.
This oatmeal recipe is our favorite!! The recipe has evolved over time and is now just about perfect, and ready for you. Petey has several bowls a week, and I am happy that this pumpkin oatmeal is a much more well-rounded meal than traditional oatmeal that is full of sugar and not much else.
The main things I've added are what I always talk about when it comes to feeding older babies/toddlers:
I added a bunch of healthy fat.
I cut down on the sugar.
I threw some veggies in there.
This recipe can be made in bulk (I make it once a week and then warm up what I need). I can't emphasize enough how forgiving this recipe of pumpkin oatmeal is. I never measured ingredients until I decided to share this recipe and needed something to share. So, don't stress over the numbers.
Pumpkin Oatmeal
½ cup full fat canned coconut milk

½ cup organic whole milk (you can use more coconut milk if you are dairy free)

½ cup pumpkin puree (or canned or cooked squash)

2-3 tbsp organic butter (oh yeah!)

Between ½ to 2/3 cup oats (depending on if you like more watery or thick oatmeal)

1 single serve container of unsweetened applesauce (which is about ¼ cup)

1 tbsp maple syrup (I'm not totally cold-hearted) or 1 over-ripe banana

2 teaspoons cinnamon

½ teaspoon ginger (I will triple this if we are dealing with a tummy-ache)

½ teaspoon nutmeg

½ teaspoon cloves

Sprinkle of raisins if your little one likes them
Throw that all in a saucepan and heat it up until it's all smooth and creamy.
BONUS STEP: When I serve this to Petey, I usually stir in a little whole-milk yogurt in the bowl to increase the protein content. That way, it really is a full complete meal. I don't recommend adding the yogurt to the bulk batch though… it doesn't cook in well. Just add in a bit after you have heated up the single serving. This step is totally optional!
---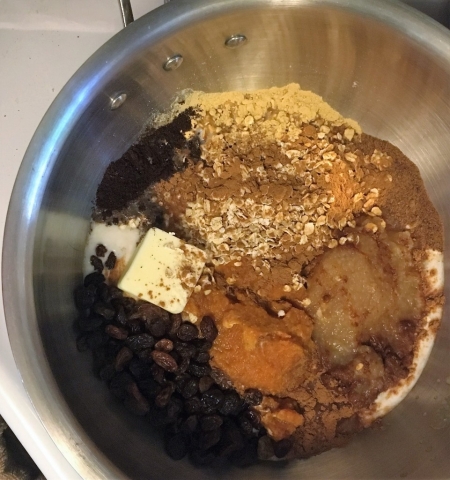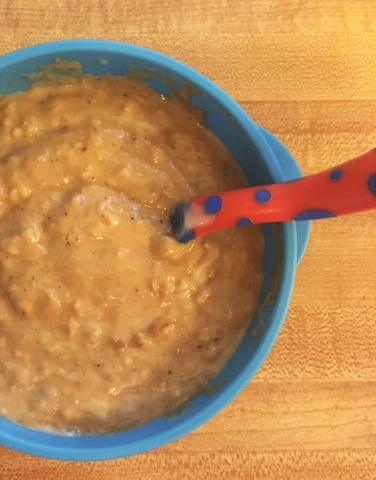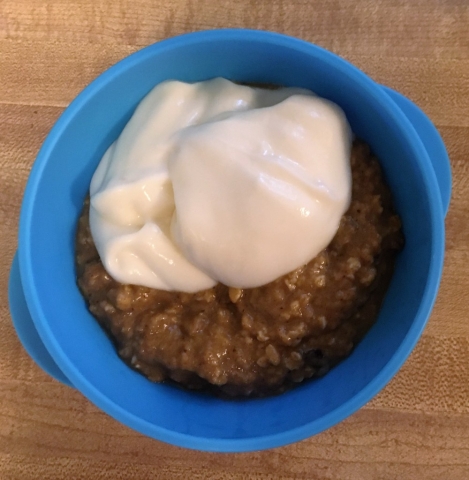 ---
You can tweak the pumpkin oatmeal however you want! I've used seeds instead of raisins. I've used an-over-ripe banana instead of syrup. I've doubled the pumpkin! It always turns out fine because the pumpkin and cinnamon combo is SO forgiving!
Toddlers love this because it has a natural sweetness, which cinnamon emphasizes. YOU will love it because it really is a well-rounded meal with all the vitamins from the pumpkin, nice healthy fat, protein and whole-grain carbs. Check also my other healthy recipe for your toddler on my blog.
If you have a toddler, you are probably dealing with food frustrations. God knows we are!! This is my go-to back up that makes Mommy and Petey happy.
Happy fall from our messy kitchen to yours,
xo Dr Young