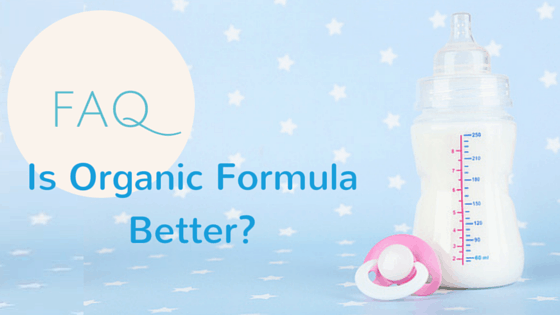 Isn't it important that my baby formula be organic?
That is one of the most common questions I hear from concerned parents. My answer may surprise you. My answer is: "That's not the best question to ask."
Let me explain.
I think there are a lot more important things to worry about in your baby's formula than whether or not the original ingredients were organically sourced.
The main reason organic status is not my main concern in formula is, I am WAY  more concerned with the type of ingredients!  If you've read any of my articles, you know I am on a mission to get parents to read the list of ingredients.  Not all baby formulas are the same and the type of protein, carbs, and fat matter!  I would much rather have parents concerned with finding a formula that has a the best best type of protein, and minimal corn syrup for their unique baby – than finding a formula that is organic.
For example, here is a chart of some popular organic formulas and the type of protein and carbohydrate in each.  I've got a much more detailed breakdown of your organic formula options here.
 

Formula

 

Protein

 Carbohydrate
 Have DHA and ARA
Similac Advance Organic

Nonfat Milk

Maltodextrin & Sugar

Yes

Honest Company Premium Infant Formula
Nonfat Milk & Extra whey
Lactose
Yes
Holle Infant Formula 1
Nonfat Milk & Extra whey

Maltodextrin

Yes

Baby's Only Dairy Formula
Nonfat Milk
Brown Rice Syrup

No

Baby's Only Dairy Whey Formula

Whey & Nonfat Milk

Lactose
Yes
Vermont Organics Milk Formula
Nonfat Milk
Glucose Syrup Solids & Maltodextrin
Yes
As you can see, organic doesn't mean you get a hydrolyzed protein, or minimal sugars, or DHA!  If you are determined to use organic, then head over to my article about my personal formula recommendations.
Don't get me wrong, I would LOVE to be able to recommend an organic formula for newborns.  If I am ever consulted by the formula industry on the design of the ultimate baby formula, it WILL have organic ingredients.  However, based on the current availability of baby formulas in the US, organic is not the primary concern, and "organic" on the label doesn't mean the ingredients are all healthy.  Organic corn syrup is STILL corn syrup!
I hope this helps make a very complicated topic a little more clear.  At the end of the day, you are the expert on your own baby!  Feel confident in that.
Dr. Young