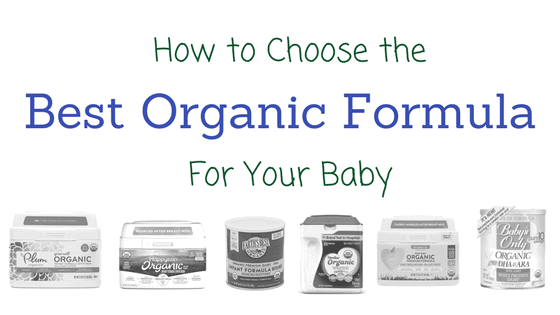 Why isn't all baby formula organic?
Truthfully… I have no idea. It makes perfect sense that we'd want to make food for our youngest humans as clean as possible. But sadly, that's just not the way the market works. This means that every parent who's had to buy formula before, has had to struggle with the question – should I spring for the organic?
Well, if you are just at the beginning stages of researching formula, then I suggest you read this article first. In it, I explain that I think you should make the decision on the type of protein you want in your formula first, before you decide on organic vs. not.
This is because – in the US, all infant organic formulas are made with intact (aka: really large) proteins. So, if your baby needs a partially hydrolyzed, or fully hydrolyzed protein source, then organic is not an option for you. Some of these formulas do offer non-GMO versions, but not organic.
But if your baby does well with intact protein, then I do recommend buying organic if your budget allows. If organic formula is a financial impossibility for you, then that is OK! Parenthood is full of decisions and endless sources of self-inflicted guilt… the decision around organic should not be one of them!
---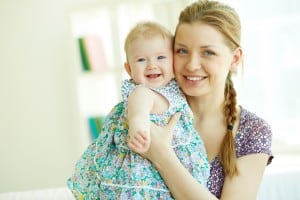 This lovely picture is totally just a stock photo. But a cute Mama and baby in flower dresses… and a braid! I am sure they are barefoot…. It looks like every organic commercial I've ever seen. How could I NOT use it!?
---
If you can afford organic, then the great news is – you've got plenty of options!
This is great news because every baby is different and special. Some babies do really well with prebiotics added, while it gives some babies too much gas. Some don't respond well to DHA and ARA. Some thrive on a lactose-reduced formula with a little bit of glucose replacing the lactose …. you get the idea. For this reason, I don't have a single brand that I universally recommend.
In this article, I'll walk you through your choices in 3 steps. First, I'll review the components in organic formulas that differ. Second, I'll break down your brand options and point out the differences. Third, I'll provide a few notes on what makes each specific formulas stand out (or not…).
This way, by the time you finish this guide, your decision will be an easy one! I suggest you read through the options with your individual angel in mind. Let your intuition fill in the gaps where you are unsure and then you'll end up with the best brand for your family.
So let's do this!
Step 1 = The components of formula that you need to consider in order of importance (according to me anyway!).
The protein source.
We already covered the fact that all US organic formulas are intact full-size protein. Yes it's a bummer. But, as I tell my toddlers, "don't dwell on sad things". (This usually follows a meltdown because the provided sippy cup was green and not blue… but the devastation seems equally emotional).
You do have a choice in protein type. First, you have a choice between soy and cow's milk base. Earth's Best has an organic soy formula. This is the only brand I'm familiar with that has an organic soy option.
All the rest are cow's milk based. Then, within the cow's milk category, you've got some variation. Remember that cow's milk proteins come in 2 categories: whey and casein. Most formulas use a base of nonfat cow's milk (which is mostly casein with a little whey) and then add additional whey to make the ratio closer to breast milk (which is more whey than casein). There are some exceptions – like Similac's and Vermont's organic formula only use "nonfat milk". So these two have much more casein than whey as the protein. This difference is really hard to spot! The ONLY place you can find it is the list of ingredients. Just look to see whether or not extra "whey protein" is listed somewhere in the ingredients.
If you are just starting off, then I recommend looking for a formula that has the additional whey added. I think it's best to start here, and then you can tweak ingredients if necessary moving forward.
The carbohydrate source.
The next big thing to consider is where the carbs are coming from. Here's my article all about carb options in formula. Basically, breast milk contains only lactose, but it also contains lots of other stuff (very scientific word there) that help a baby digest all that lactose. If your little gas-machine has an issue with these large amounts of lactose, then you may be looking for a "lactose reduced" formula. How do you know if you have one? You have to look for alternative sources of carbohydrate on the list of ingredients. These could include:
maltodextrin
corn syrup solids
corn syrup
glucose syrup solids
sucrose
sugar
brown rice syrup
Here's a tricky truth to keep in mind. Some formulas don't have any lactose listed on the ingredients, but DO contain lactose. What!?!? How is this possible? Well, it's because there is a significant amount of lactose in cow's milk, so if you see "nonfat milk" on the ingredients, then there is some lactose in that – so you may not see additional lactose on the label.
Take Vermont Organics as an example. Their formula does not have ANY lactose listed on the label. The only sources of carbohydrate on the label are: Corn Syrup Solids and Maltodextrin. But, you do see nonfat milk on the list of ingredients, so you know this is not a lactose-free formula. In fact, the carbohydrates in this formula are the following breakdown: 44.0% Corn Syrup Solids, 28.9% Maltodextrin, and 26.7% Lactose. That is a lot of lactose for not appearing on the label anywhere! These are the sneaky things parents have to figure out for themselves. I've provided percentages for you like this where relevant in the breakdown below.
To further perpetuate inappropriate stereotyping used in organic marketing – here is a picture of one of my very own barefoot, overall-clad boys. You can even see our compost in the background … how very legit! 🙂
---
The fat source.
The last major ingredient is fat. All fat in organic formulas comes from vegetable oils. There's not that much variation between brands. The big difference is that a few formulas choose to exclude palm oil form their blends. Palm oil has a little bit of controversy to it. I'm not going to go into great detail since I have another article about it, if you are interested.
Here's my general punchline: If your baby has a chronic constipation issue, then read the article and consider avoiding palm oil to see if that improves the situation. If you have nice consistent painless blowouts occurring in your house, then the fat blend used is probably not going to be a big factor in your choice.
Baby's Only and Similac formulas are the only ones that do NOT use palm oil.
Sexy Extras.
These are designer additions that aren't required so you only find them in some formulas. In the organic market, these are prebiotics and lutein and lycopene. To be honest, lutein and lycopene don't make that much of a difference to me. They definitely don't sway my opinion one way or the other.
I do like to see a prebiotic in a formula for most babies. There are 2 types of prebiotics in the organic formulas:
Galacto-oligosaccharide = GOS
Fructo-oligosaccharide = FOS
Both of these help healthy bacteria grow, which has many benefits. But neither are the type of prebiotics found in breast milk. They are our chemically-similar substitute.
Lots of the organics have a prebiotic, and these differ in amount. I tried to give an idea of how much prebiotic is in each of the brands below. I use some vague language here since some of the concentrations are proprietary (meaning secret), so we have to make some loose inferences based on the order of the list of ingredients. Happy Baby has by far the most prebiotic. I think this is fantastic for lots of babies. However, I think it is too much for some especially sensitive gas-prone kiddos. It may take a little bit of experimentation to find the right amount for your own special baby.
DHA and ARA
I've got a whole video about hexane-extracted sources of the fatty acids DHA and ARA.
These ingredients are controversial in some circles. There have been reported cases of some pretty bad negative responses in some babies. But these bad reactions are extremely rare. Hexane-extracted DHA and ARA are very common in formulas. It's actually hard to find formulas without these ingredients, even though they are not required by the FDA.
You do have some options to avoid these ingredients if you wish to, in organic formulas. The Honest Company intentionally leaves these ingredients out of both of their formulas. Also, Earth's Best sells a "no DHA" version of their standard formula (look for the green can). Lastly, Baby's Only is the only formula in the US that uses a non-hexane extracted source of DHA, which comes from egg yolk.
6. Lab-based extras
These are last on my list because they are lowest on the list of ingredients (meaning lowest in quantity), and also less commonly reactive. There are lots of things that are in breast milk that are technically not nutrients. Some of these things are added to formula to try to make it like breast milk. These include: carnitine, taurine, and nucleotides.
Here's why some people find these ingredients controversial. The way the human mammary gland packages these chemical compounds is really different and more elegant than the way we scientists are able to extract or build them in a lab (and then sprinkle them into formula). For this reason, some parents like to avoid these ingredients and stick to a more simple formula recipe. If that speaks to your intuition, then you can look in the N/C/T column in the mega-chart below to see if the formula contains Nucleotides, Carnitine, or Taurine.
Step 2 = The Breakdown of differences between brands.
You made it!! Now that you now what differences to look for, you're ready to compare your options. Below is the master chart of your brand options and what they offer in each of the categories we just discussed. I included two "honorable mention" formulas in the list. I included Similac's Pure Bliss formula even though it's not organic. This is because it is the only grass-fed option currently available in the US.
Again, why aren't ALL formulas grass-fed and organic?! **exasperated sigh** I don't know. But, if organic is important to you, then grass-fed is likely also an appealing option, so it is nice to see how it stacks up with organic competitors. (For more background on grass-fed and Pure Bliss, check out this article).
I also included Baby's Only Whey formula. This is technically a toddler formula, but is a common organic competitor, so I wanted you to see it side-by-side with the infant formula options. (For more info about toddler formulas in general, check out this video).
So here's the juicy (or should I say milky…. haha!) breakdown:
Brand
Protein
Carb
Fat
Extras
N/C/T?
DHA?
$ per oz
Similac Organic
Nonfat Milk
Maltodextrin, Sugar
(45% Maltodextrin, 27% Sugar, 8% Lactose)
High Oleic Sunflower Oil, Soy Oil, Coconut Oil
FOS
Lutein
Lycopene
N/C/T
Less than 2%
$1.28
Similac Pure Bliss
Nonfat Milk, Whey Protein Concentrate
Lactose
High Oleic Sunflower Oil, Soy Oil, Coconut Oil
GOS
Lutein
N/C/T
Less than 2%
$1.10
Earth's Best Standard
Nonfat Milk, Whey Protein Concentrate
Lactose
Palm or Palm Olein, Soy, Coconut, High Oleic Safflower or Sunflower Oil
FOS
Lutein
N/C/T
Less than 1%
$1.03
Earth's Best Sensitivity
Whey Protein Concentrate, Milk Protein Concentrate
Corn Syrup Solids

(99% Corn Syrup Solids, 1% Lactose)

Palm or Palm Olein, Soy, Coconut, High Oleic (Safflower or Sunflower) Oil
FOS
Lutein
N/C/T
Less than 1%
$1.15
Earth's Best – No DHA
Nonfat Milk, Whey Protein Concentrate
Lactose
Palm or Palm Olein, Soy, Coconut, High Oleic Safflower or Sunflower Oil
FOS
Lutein
N/C/T
No
$1.30
Honest Co Standard
Nonfat Milk, Whey Protein Concentrate
Lactose
Palm Oil Or Palm Olein, Soy Oil, Coconut Oil, High Oleic Safflower or Sunflower Oil
FOS
T
NO
$1.57
Honest Co Sensitive
Nonfat Milk, Whey Protein
Glucose Syrup Solids, Maltodextrin

(38% Glucose Syrup Solids, 36% Maltodextrin, 26% lactose)

Palm Oil Or Palm Olein, Soy Oil, Coconut Oil, High Oleic Safflower or Sunflower Oil
FOS
Lutein
NO
NO
$1.57
Plum Formula
Nonfat Milk, Whey Protein
Lactose
Palm Oil, Soy Oil, Coconut Oil, High Oleic Safflower or Sunflower Oil
NO
T
Less than 1%
$1.48
Happy Baby
Nonfat Milk, Whey Protein Concentrate
Lactose
Palm Olein or Palm, Soy, Coconut, High Oleic Safflower or Sunflower Oil
GOS & FOS
NO
Less than 1%
$1.31
Vermont Organics
Nonfat Milk
Corn Syrup Solids, Maltodextrin

(44.4% Corn Syrup Solids, 28.9% Maltodextrin, 26.7% Lactose)

Palm Olein or Palm, Soy, Coconut, High Oleic Safflower or Sunflower Oil
FOS
N/T
Less than 1%
$1.54
Nonfat Milk, Whey Protein
Lactose
Sunflower or Safflower Oil, Soy Oil, Coconut Oil
NO
NO
Egg Lecithin
$1.18
Step 3 = Some notes on specific brands:
Honestly, I don't like this formula. The protein blend has no extra whey and the sucrose (a fructose-containing sugar) seems unnecessary to me.
---
It does have more DHA and more FOS than most other formulas on the market. It also does NOT use palm oil, which is unusual to find these days. Remember it's NOT organic (it is non-GMO), but it is grass-fed.
---
This formula has about half the amount of PREbiotic as Similac Organic or Pure Bliss.
This organic formula wins my bargain award!
---
This formula has almost zero lactose. I am not sure why it is more expensive than the standard version as corn syrup solids are cheaper than lactose … someone's getting rich there …
However it is a great option if your little once has extreme difficulty with lactose.
---
This is a great option if you want to avoid DHA. It goes head-to-head with Honest Co's standard formula.
I'm not sure why it's more expensive than the standard version even though it seems identical except they've left OUT the DHA and ARA additives. But the $ issue aside, it's nice to have another non-DHA option on the market.
---
Pay attention to your box packaging!! The Honest Co JUST changed this formula's recipe and BOTH versions are currently on the market. The info provided above is for the NEW version. Please check out my video on the change for more details.
Also note, the new version is a tiny bit more expensive than the old version since they are making the new tub 2.2 oz smaller (sneaky!).
---
If you are looking for a lactose-reduced organic, this is your "moderate" option, with 26% lactose, which is much more than Earth's Best Sensitivity formula.
If you are looking for a lactose-reduced formula with NO hexane extracted ingredients, this is your only option. (Baby's Only has 2 formulas that do fit this criteria, but these are toddler formulas and I didn't include it in this breakdown).
---
This is a great option if you are looking for a "clean and simple" formula.
---
This formula's claim-to-fame is the large amount of prebiotics – the highest on the market! This can help the baby's gut flora to look more like breastfed babies'.
---
This formula is similar to Similac's but doesn't use Sucrose (a good thing in my book!). It also has about half the prebiotic that Similac's provides.
---
Remember this is a toddler formula! Be sure to watch my video about toddler formulas and talk to your doctor first if you are considering it. It's the ONLY formula to provide DHA and ARA from a non-hexane extracted source (awesome!). It also doesn't use palm oil (double awesome!). It is otherwise simple, with no prebiotic or lab-derived extras. Baby's Only has other formulas options but I only included this one in the comparison since it is their only formula with no additional sugars.
---
This guide ended up being a BEAST, but it really does cover everything you should consider when deciding on the best organic formula for your individual baby! I hope it serves as a useful reference that you can come back to again and again when considering your options. Remember that your intuition is the best guide out there! This article provides you the background. After that, trust what feels right for your baby.
Know of a brand I missed here? Be sure to let me know in the comments and I'll incorporate it.
All my best to your very special baby!
xo Dr. Young
p.s. The links above that take you to Amazon are affiliate links. This means, if you end up buying the formula, I get a tiny kickback – at no cost to you. I only use these links for products that I have used successfully with clients before. Mama's gotta pay those website hosting fees! This is how I can keep putting this free info out there. Thanks!