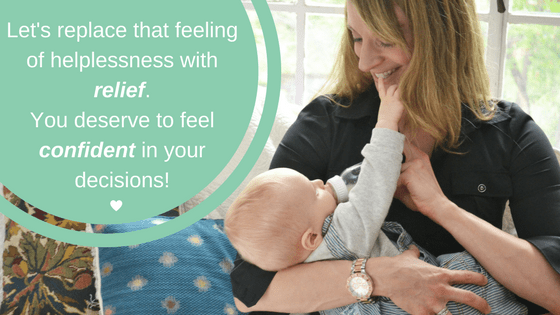 If you have found me, you probably intended on breastfeeding your baby.  It can feel devastating when breastfeeding doesn't work out.  But when formula feeding ALSO doesn't go as planned… that is just beyond frustrating and overwhelming!
I help parents walk through this crazy baby feeding journey – which is often the most stressful part of new parenthood.
I have a doctorate in Perinatal Nutrition, and am a Certified Lactation Counselor. I have years of experience helping parents find and implement an individualized feeding plan that works for their baby and their family.  Plus, I have a couple little boys myself! You can read more about me here.
​Every baby is special and unique.  I love working with families to find the right eating plan for their individual baby – and helping to replace that sense of helplessness with confidence.
I would love to put my expertise to work for your baby!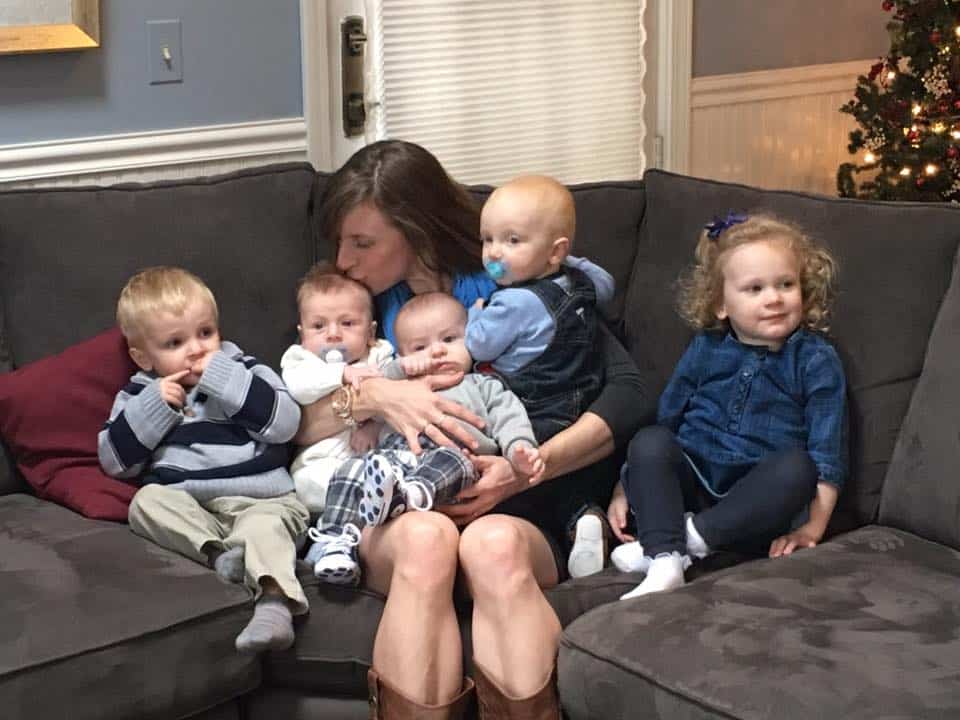 Here are the Infant Feeding Consultation Packages that I offer:
FREE Initial Consultation
Let's get on the phone and chat for fifteen minutes! You can ask me questions about your individual circumstances. This is a nice way for you to hear my voice, get some quick tips, and find out if a more tailored consulting package is right for your family. There's no obligation.
The Formula Power Hour
This is for those of you that want to "pick my brain" a bit more and get into some more detail about your individual baby. If your baby's issues aren't complex enough to necessitate a full feeding strategy, this may be the perfect solution for you. In this 60 minute phone consultation, I will answer all your questions. This is a $100 investment, and makes a great gift for that special new-Mom. For less than the price of a massage – you can banish that feeling of helplessness.
Detailed Individual Feeding Strategy
This package is designed to utilize my expertise to provide you with confidence that you are making the best choices for your baby – and peace of mind that I'm here on this journey with you. This is my favorite way to work with families since I can really get to know you! We begin with a 90 minute initial session. I prefer to do this online (via Skype or Zoom) but it can be over the phone if necessary. In this session, we review your baby's and your medical and birthing history and everything you have tried with your baby until now. This is my chance to get to know your baby's individual biology, and also learn about the dynamics of your family. All of that factors into how a baby responds to new formulas. I'll spend time making sure you understand the differences in formulas you have tried, or are considering. I will let you know what I think is happening and together we will come up with a feeding plan tailored to your baby that you feel confident about! I know you are sleep deprived and stressed and can't be expected to remember a lot of medical language – so I provide a detailed summary of our talk and a step-by-step implementation plan with tracking worksheets so there is no more second guessing your decisions.
Total Investment – $225
Follow-Up Included
​
As you know, babies are constantly changing and developing new quirky little issues. To plan for this, I offer the chance to pre-purchase follow-up at a discount, and provide you guaranteed access to me! In addition to the initial feeding strategy, you receive 3 follow up phone calls (30 minutes each) so we can monitor your baby's progress and make tweaks if necessary. I also provide 1 month of email support for simple questions and will respond within 24 hours.
Total Investment – $425
Extra Sessions
I also offer single "add-on" follow-up sessions if you would like more long-term follow-up to any package above. These calls last for roughly 30 minutes each. You can schedule them as a single call ($65/call) or save a bit by purchasing a package ($175 for three 30-minute follow-up calls).
Frequently Asked Questions
Is it worth it?
Feeling confident that you are making the right choices for your unique baby is literally priceless. However, babies are also expensive, and this is a significant investment of your hard-earned money. I have an excellent track record of getting results for clients and helping them resolve infant issues that are causing stress in their family (Check out some testimonials below). Furthermore, I promise you will feel confident in your decisions after working with me. We will eliminate that feeling of overwhelm and helplessness with a clear plan, and back up options!
This can actually save you money! You already know that formula is expensive and I can help you minimize the cost of wasted, unused cans of formulas, infant drops, and supplements.
Lastly, this investment will save hours of your valuable and limited time. You can stop combing the internet trying to research formula ingredients and recommendations. That time is better spent snuggling with your angel!
What happens when you book?
I usually first "meet" my clients over the 15 minute free consultation, which gives you a chance to get to know me a bit, and get some initial questions answered. If we decide to do a more in-depth consultation together, you will sign up for an appointment at a time that works for you. Once you sign up, I will send you a consent to sign, and a questionnaire to fill out about your baby. Here is a link to the consent.
Our initial 90 minute consultation will take place online via skype or zoom. I prefer to do it online because I often gain insights or pick up subtle clues of "mommy intuition" that are evident in facial expressions. This way, you can also show me the type of bottles and supplements you may be using, which decreases miscommunication.  Plus, sometimes I get to see the baby if he/she is awake, and that just makes my day! After hearing every detail you can provide, I make several recommendations for your individual baby's diet and feeding routine. We come up with a realistic and detailed plan of action around how to incorporate these changes and what to watch for.
Within 24 hours of the call, I will email you a summary of our discussion along with the detailed action plan and tracking worksheets. I do not expect sleep-deprived parents to remember everything said in a 90 minute meeting! If you chose a plan with follow-up, you schedule your follow up calls when you want them.  This allows us to work around your baby's natural rhythm of adjustment to change. If you have a quick simple question – you can email me, and I will respond within 36 hours.  You are not in this alone!
Who do I work with?
I specialize in working with term babies who are struggling to find a formula that keeps them comfortable.  I only work with US-based clients since formula brands and regulations are different elsewhere. I normally do not take on clients who's baby was born before 35 weeks.  Premature infants have very specific nutritional needs and often have secondary health issues that make their treatment especially complex. In these cases, I don't feel comfortable discussing your baby's health condition without consulting with your pediatrician and neonatologist.
Similarly, if your baby has a major metabolic disease or genetic disorder, then I am not a good fit. If you think I can still help, then let's get on a free 15 minute call, and I can hear more details about your baby's case. I only work with parents/guardians of the infant.  I will not discuss an individual baby's health with anyone else, even if you are a family member.
Am I a good fit for your family?
I don't pretend to be a good fit for every single family. Having a newborn can be stressful – and is certainly emotional. It is critical that you feel comfortable with everyone on your team … including me! I pray for every baby that I work with, and I want you to feel comfortable with that.

The free 15 minute call gives us a chance to get to know each other. It also gives me a chance to hear about you, so I can decide whether or not I can help your family. If I don't think I can help your family, I'll tell you. I am very honest about this! If you want a preview of me – I have a large archive of "Happy Hour" videos that I have filmed on a large variety of infant feeding topics.  Feel free to browse through these. I bet you'll learn something useful!

What Others Have Said

​As a first time parent, I felt overwhelmed leaving the hospital with my baby Sawyer, with much to worry about! I felt frustrated and devastated when I realized that solely breastfeeding wasn't going to work for us and we needed to supplement. Switching to formula was already a big decision … and then when the transition didn't go smoothly, it was frustrating and disappointing. By three weeks of age, Sawyer was still not sleeping well and was obviously uncomfortable for several hours a day. As a mother, it's heartbreaking to see your baby upset and not have a way to fix it.

When I found Bridget, I was so relieved to find someone who could give me guidance that I hadn't been able to find elsewhere. Working with her was a game changer for our family. I was comforted to leave our conversation with a specific plan to try out with Sawyer. I absolutely love my pediatrician but even they could not provide me with detailed information with regards to an eating plan for Sawyer. Bridget was able to explain why Sawyer might be reacting a certain way to the formula and discuss a number of options for finding a solution for him. She gave us a realistic plan that included options to be sure we were comfortable. In addition to the specifics, Bridget also provided general guidance on best-practices for bottle feeding that were really helpful, and hadn't been provided to me by anyone else.

After implementing our personal feeding plan for about a week, Sawyer turned a corner! We witnessed a real difference in his mood and he was generally much happier and more comfortable. It was invaluable to witness that change in our baby, and we are so grateful Bridget helped us to get there.

Courtney, Mother to Sawyer (2 weeks)

​

As new parents my husband and I both felt really overwhelmed in general and very stressed out when breastfeeding was unsuccessful for us. Making sure our baby had the best nutrition was imperative and trying to find a formula that suited our baby became quite a challenge. As a result, I turned to the Internet for some help and consider it my good fortune to have found Dr. Young 's YouTube videos. I probably watched all of them, some twice. I learned so much about an infant's digestion, formula and nutrition. I found her to be much more knowledgeable and helpful than my pediatrician in these matters. I was able to schedule a remote consultation and we found her to be so personable, helpful and supportive. I felt like I was talking to an old friend. She explains things in a very simple to understand way and will spend as much time with you as need. I never felt rushed during our consultation and she has followed up with me several times since then to see how my baby is doing and has made very helpful suggestions. It's very apparent how passionate she is about her work and she will go above and beyond for her clients. I really can't say enough good things about my experience. I've told all my new mom friends about her and highly recommend Dr. Young!

Nisha, Mother to Izaan (8 weeks)

I was diagnosed with postpartum preeclampsia a week after labor and was in ICU. Although I pumped as much as possible my supply tanked and I found myself stressed and researching formula nonstop. Being a new mom that planned for a natural birth and always planned to breastfeed formula was never in my plan. If you have ever been down that road you know understanding formula ingredients is no easy task. I was blessed that my daughter had no allergies and I knew soy protein was out of the question, so that slightly reduced my options. I preferred organic or non GMO formula that limited my list but still left me lost. I was confronted with limited information and told by my pediatrician not to worry about high sugar contents in formula. My mommy gut told me otherwise and it wasn't until my lactation consultant recommended Dr. Young's that I finally felt peace of mind. She connected with me immediately and helped me find the best organic formula for my daughter. Although I continue to breastfeed as much as I can, I sleep knowing I have the best formula for her.

Sara, Mother to Catalina (8 weeks)

You are fabulous Bridget! We are so much happier with our new formula after working with you… Your added value to this difficult and stressful time is brilliant.

Leah, Mother to Walker (4 weeks)

Dr Young, you are a godsend. I've learned so much and wanted to thank you for being such an amazing resource. Truly, you're so knowledgeable and explain things in such a clear and concise way. Thank you so much!

Nisha, Mother to Izaan (8 weeks)

You are awesome – I love that you're providing really helpful information about formula, especially for those of us who aren't able to breastfeed.

Charlene, Mother to twins!

© 2017 Baby Formula Expert – Healthy Baby, LLC[/fusion_text][/fusion_builder_column][/fusion_builder_row][/fusion_builder_container][fusion_builder_container hundred_percent="no" equal_height_columns="no" hide_on_mobile="small-visibility,medium-visibility,large-visibility" background_position="center center" background_repeat="no-repeat" fade="no" background_parallax="none" parallax_speed="0.3″ video_aspect_ratio="16:9″ video_loop="yes" video_mute="yes" overlay_opacity="0.5″ border_style="solid"][fusion_builder_row][fusion_builder_column type="1_1″ layout="1_1″ background_position="left top" background_color="" border_size="" border_color="" border_style="solid" border_position="all" spacing="yes" background_image="" background_repeat="no-repeat" padding="" margin_top="0px" margin_bottom="0px" class="" id="" animation_type="" animation_speed="0.3″ animation_direction="left" hide_on_mobile="small-visibility,medium-visibility,large-visibility" center_content="no" last="no" min_height="" hover_type="none" link=""][fusion_text]All Rights Reserved [/fusion_text][/fusion_builder_column][/fusion_builder_row][/fusion_builder_container][fusion_builder_container hundred_percent="no" equal_height_columns="no" hide_on_mobile="small-visibility,medium-visibility,large-visibility" background_position="center center" background_repeat="no-repeat" fade="no" background_parallax="none" parallax_speed="0.3″ video_aspect_ratio="16:9″ video_loop="yes" video_mute="yes" overlay_opacity="0.5″ border_style="solid"][fusion_builder_row][fusion_builder_column type="1_1″ layout="1_1″ background_position="left top" background_color="" border_size="" border_color="" border_style="solid" border_position="all" spacing="yes" background_image="" background_repeat="no-repeat" padding="" margin_top="0px" margin_bottom="0px" class="" id="" animation_type="" animation_speed="0.3″ animation_direction="left" hide_on_mobile="small-visibility,medium-visibility,large-visibility" center_content="no" last="no" min_height="" hover_type="none" link=""][fusion_text]Disclaimer [/fusion_text][/fusion_builder_column][/fusion_builder_row][/fusion_builder_container][fusion_builder_container hundred_percent="no" equal_height_columns="no" hide_on_mobile="small-visibility,medium-visibility,large-visibility" background_position="center center" background_repeat="no-repeat" fade="no" background_parallax="none" parallax_speed="0.3″ video_aspect_ratio="16:9″ video_loop="yes" video_mute="yes" overlay_opacity="0.5″ border_style="solid"][fusion_builder_row][fusion_builder_column type="1_1″ layout="1_1″ background_position="left top" background_color="" border_size="" border_color="" border_style="solid" border_position="all" spacing="yes" background_image="" background_repeat="no-repeat" padding="" margin_top="0px" margin_bottom="0px" class="" id="" animation_type="" animation_speed="0.3″ animation_direction="left" hide_on_mobile="small-visibility,medium-visibility,large-visibility" center_content="no" last="no" min_height="" hover_type="none" link=""][fusion_text]Privacy Policy [/fusion_text][/fusion_builder_column][/fusion_builder_row][/fusion_builder_container][fusion_builder_container hundred_percent="no" equal_height_columns="no" hide_on_mobile="small-visibility,medium-visibility,large-visibility" background_position="center center" background_repeat="no-repeat" fade="no" background_parallax="none" parallax_speed="0.3″ video_aspect_ratio="16:9″ video_loop="yes" video_mute="yes" overlay_opacity="0.5″ border_style="solid"][fusion_builder_row][fusion_builder_column type="1_1″ layout="1_1″ background_position="left top" background_color="" border_size="" border_color="" border_style="solid" border_position="all" spacing="yes" background_image="" background_repeat="no-repeat" padding="" margin_top="0px" margin_bottom="0px" class="" id="" animation_type="" animation_speed="0.3″ animation_direction="left" hide_on_mobile="small-visibility,medium-visibility,large-visibility" center_content="no" last="no" min_height="" hover_type="none" link=""][fusion_text]Terms of Use

[/fusion_text][/fusion_builder_column][/fusion_builder_row][/fusion_builder_container]

[fusion_builder_container hundred_percent="no" equal_height_columns="no" hide_on_mobile="small-visibility,medium-visibility,large-visibility" background_position="center center" background_repeat="no-repeat" fade="no" background_parallax="none" parallax_speed="0.3″ video_aspect_ratio="16:9″ video_loop="yes" video_mute="yes" overlay_opacity="0.5″ border_style="solid"][fusion_builder_row][fusion_builder_column type="1_1″ layout="1_1″ background_position="left top" background_color="" border_size="" border_color="" border_style="solid" border_position="all" spacing="yes" background_image="" background_repeat="no-repeat" padding="" margin_top="0px" margin_bottom="0px" class="" id="" animation_type="" animation_speed="0.3″ animation_direction="left" hide_on_mobile="small-visibility,medium-visibility,large-visibility" center_content="no" last="no" min_height="" hover_type="none" link=""][fusion_text]