80% of infants in the US will receive formula before the age of 12 months. Parents and providers DESERVE research-based, unbiased information about the science, nutrition, and safe administration of infant formula.
Join me on my quest to end the feeling of helplessness that so often surrounds infant feeding decisions!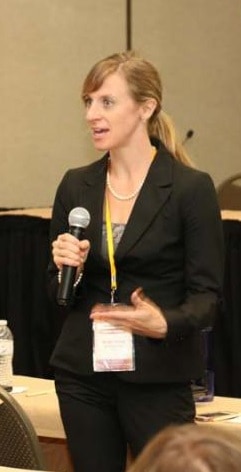 What You Get By Bringing Me To Your Event:
Credibility.  I have a PhD in Perinatal Nutrition, am a Certified Lactation Counselor (CLC), and have years of experience working with individual infants and their families as an Infant Feeding Expert. I have over a decade of experience conducting academic research in perinatal nutrition and teaching at the collegiate level. Every talk I give is accompanied by a full list of references made easily accessible to all attendees. Click here to view my full credentials.
Distinction.  I have quite a few nerd accolades (see above).  But I pride myself on making medical research accessible and translating the science into applicable insights . . . and doing so with personality!  I like to use humor and anecdotes to keep the audience interested.  Please visit my YouTube channel to see this in action!  While my weekly "Happy Hour Show" is extremely casual, it will provide you some insight into my personality and my ability to connect with an audience.
Enthusiasm.  I welcome interaction and always build in opportunities for audience participation, engagement, and questions.  I promise you no one will fall asleep in my session!
Commitment.  Where my schedule allows, I love to attend the entire event.   This allows me to expand my perspective and learn from the other attendees.
For a speaking proposal, more details, or any questions, please email:
[email protected]
Most Requested Presentations
I will work with you to customize one of these talks or address a new infant nutrition topic to ensure your unique audience has an unforgettable experience.
Quest for the Perfect Formula: Individualizing Formula Choice to Meet Infant Needs
This is one of my most popular talks – almost a "Formula 101" class.  The focus is on the major macronutrients of infant formula.  I digest (pun intended!) the various options in each macronutrient category and include a biology-based discussion of individual infants that may benefit from different choices.  This talk will arm attendees with the knowledge to confidently read a formula label and accurately distinguish between marketing and science.  More importantly – it will equip them with the ability to make an informed individualized formula recommendation.
Common Formula Controversies: How to Make your Own Educated Judgments
It is no secret that the infant formula realm is often plagued with controversy. Unfortunately, misinformation and sensationalism are common. This talk educates attendees on how to interpret data surrounding such controversies for themselves, and answer parental concerns. I take a factual, evidence-based approach to review several different controversial ingredients/topics addressing regulation, testing, rationale, and common concerns.  Examples include: Palm Oil, Corn Syrup, Hexane (extraction), and Homemade formula. This talk can be tailored to meet specific concerns that are commonly raised by your audience or clientele.
Decoding Formula Marketing to Make Truly Educated Decisions for our Babies
This talk is best suited for an audience that has some underlying awareness of infant formula options. I focus on common marketing claims and break down the nutrition science that drives each.  Examples include, "sensitive", "easy to digest", "closest to breast milk", and more! Attendees will leave confident that they can ignore marketing all together and make decisions/recommendations based on nutrition and biology.
---
I really enjoyed Dr. Young's take. Her passion and depth of knowledge around infant formulas was very impressive. The talk was highly informative!
Dr Young is an excellent speaker. She does a great job presenting complicated scientific concepts with a focus on implementable take-homes. She has a great sense of humor and her enthusiasm is contagious!
Dr. Young did an excellent job as the speaker for our annual kick-off event! She was able to communicate the science in a way that was understood by a variety of education levels. I received a lot of amazing feedback from both students and practicing professionals - everyone was so thankful that we brought her in as a speaker!
Dr. Young is a fantastic and engaging speaker. As a healthcare practitioner, I appreciate her scientific perspective and wealth of knowledge, and admire her ability to make complex information understandable and relevant for the general public. Dr. Young addresses much needed conversations in baby feeding, and approaches touchy subjects with compassion, understanding, and a genuine desire to help families. Participants always leave her sessions with key take-home points that are applicable to their family life. Her positive attitude, energy and enthusiasm makes for a fun and engaging environment. She is a treat to listen to!
Dr. Young is a great example of knowledge and positive energy. They way she carried her presentation was just awesome and loved by all the participants. Because of her presence, the participants present in the hall were energetic and lively. It was a pleasure to interact with her. We hope she continues to join us for future events as a Keynote Speaker.
Dr. Young's teaching style was engaging and enthusiastic. She elicited participation from the audience. Her talk distilled the current state of scientific understanding on a complex topic to the level appropriate to the background of the audience. After her talk, attendees stayed to enthusiastically discuss the topic with Bridget! In addition, several attendees approached me in the days following her talk to thank me for engaging Dr Young as a speaker. I have taught nutrition for over 15 years and rarely see such a well-informed and enthusiastic presenter.
Bridget Young is not only a wealth of knowledge, she is a captivating speaker with an impeccable attention to detail. She is professional from the first email to the moment she left the event. We would absolutely work with Bridget again!