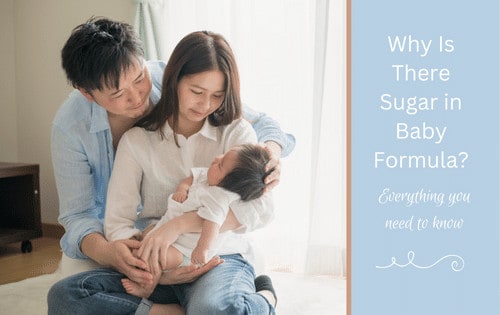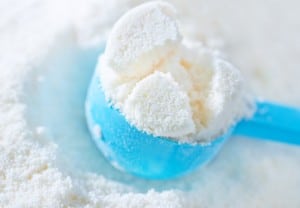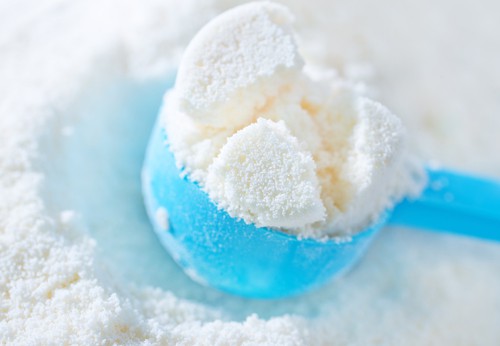 Baby formula can seem like a mysterious magic potion. Depending on how your baby tolerates it – it can be a wonderful potion resulting in a happy growing baby or a black magic brew that brings stress and anxiety into your home.
Despite all the mystery around formula, all baby formulas follow the same basic recipe: start with fat, protein, and carbohydrates, and then add vitamins minerals, and "extras" (like probiotics) in much smaller amounts. Different types of formulas end up very different because they use different sources of protein, fat, and carbohydrates.
Here we'll be focusing on the carbs – and talk about the different types of carbs found in formula, and which you should be looking for …. Or avoiding.
Sugar in Formula
Sugar is a carbohydrate – and that's why sugars end up in baby formula – because they are a simple easy-to-digest carbohydrate. And, as you can imagine, it's pretty important that the carbohydrate in baby formula is easy-to-digest because babies' intestines aren't mature enough to handle lots of complex carbs and fiber. That's why we see sugars.
So, the first take-home is: It's not as scary as it initially seems to see lots of sugar in baby formula.

Glucose, Galactose, and Fructose
However, not all sugars are created equal, so let's look at all the options you may see on a label. ALL carbohydrates are made up of 3 tiny building blocks: Glucose, galactose, and fructose.
Lactose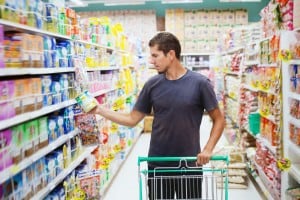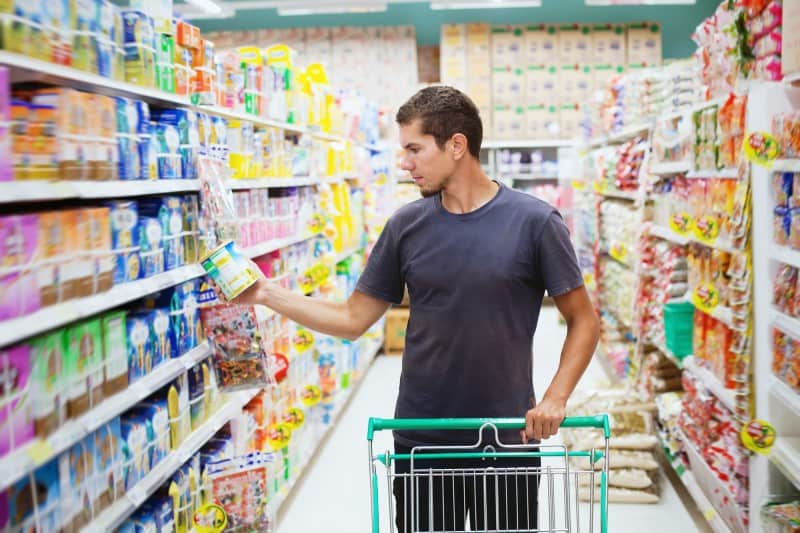 Pretty much all of the carbohydrate in breast milk (and cow's milk) is lactose, which is 1 glucose and 1 galactose stuck together. This is the type of carbohydrate human babies are designed to eat. It's easy to digest. It helps the good bacteria in babies' intestines grow, and it does not increase blood sugar as much as other sugars.
In fact, lactose has a glycemic index (a measure of how much a food increases blood sugar) of 45. Pure glucose has a glycemic index of 100. It's also not uber sweet. On a scale of 100, where 100 = table sugar, lactose gets a relative sweetness score of only 16.
Sucrose
Another sugar in baby formula you'll see is sucrose. This is the chemical name for table sugar … like the white stuff you put in your coffee and in your cookies. Sucrose is 1 glucose and 1 fructose stuck together. It has a glycemic index of 65 (higher than lactose). It's also the sweetest sugar you will find in any baby formula, with a relative sweetness score of 100.
You often see it in soy and lactose-free formulas. I am wary of baby formulas that ONLY have sucrose as the carbohydrate. This is because, sucrose is broken down into it's pieces: glucose and fructose … meaning 50% of baby's carbohydrate intake is fructose. That's a lot! There's a lot of research out there (all in older children and adults) that shows that diets high in fructose are really harmful (1-3), so I worry about that much fructose in a baby's diet.
Corn Syrup & Corn Syrup Solids
The next most common type of sugar is corn syrup, or corn syrup solids. All corn-sugars are made up of a bunch of glucoses stuck together. Corn syrup is made from corn starch that has been broken down a bit into short chains, or single glucoses stuck together. Depending on how much the corn starch was broken down, the relative sweetness score can range between 23-40 … so more than lactose, but less than sucrose.
Maltodextrin
Another common type of corn sugar is corn maltodextrin. Maltodextrin is made up longer, chains of glucose. In fact, corn maltodextrin would become corn syrup if it were broken down just a little bit more … that's the difference between the two! This means corn maltodextrin is a little less sweet than corn syrup.
It has a relative sweetness score of between 6-21. However, even though the chains of glucose in maltodextrin are longer than the chains of glucose in corn syrup … it's still all glucose, so the glycemic index of both corn syrup and maltodextrin is 100.
Some baby formula companies have wised up to the fact that parents don't like to see "corn syrup" on their baby's formula label, so they have started using the term "glucose syrup". It's the same thing! It's possible that the syrup was extracted from a different sweet plant than corn – but it's still a processed bunch of glucose … don't be fooled!
I want to make a side point here – corn syrup is NOT the same as high-fructose corn syrup. As the name implies, high-fructose corn syrup has a bunch of fructose in it. Plain corn syrup has only glucose. This means a formula with corn syrup will have a high glycemic index (way higher than lactose formulas and breast milk), but it won't be providing potentially harmful amounts of fructose.
Starch
The last type of carbohydrate you might find is starch – in spit-up formulas. It's usually rice starch. This won't be the only source of carbohydrate, but these specialty formulas use starch to thicken the formula so baby is less likely to spit it back up.
Here's a chart that summarizes the main types of sugars in baby formula and tells you what you need to know about each. They glycemic index is a measure of how much the sugar impacts blood sugar. So, the higher the number, the harder baby's pancreas will have to work.
Sugar
Glycemic Index

Sweetness
Index Score

Notes
Lactose
45
16
Galactose + Glucose
This is the sugar in breast milk
Corn Syrup
100
30-40
Short chains of glucose
Corn Syrup Solids
100
23-40
Dehydrated corn syrup
Maltodextrin
110
6-21
Longer, more complex chains of glucose
Sucrose
65
100

Glucose + Fructose
This is table sugar
Rice Starch
100
Added to thicken certain formulas. This won't be a large source of carbohydrate calories
Glucose Syrup
100
30-40
Likely Corn Syrup – but may come from a different plant, but the end product is the same

So why is there sugar in baby formula? Well, a few reasons:
They provide a source of easy-to-digest carbohydrate (important!)
Corn based sugars are cheap
Certain sugars (maltodextrin) also serve as a nice thickener
All the non-lactose sugars are sweeter than lactose, so your baby is more likely to accept the formula right away (and thus you are more likely to keep buying that brand)
In the case of partially hydrolyzed formulas, some corn-based sugar is usually added because the process of hydrolyzing (or breaking up) the proteins adds a funky odor and taste to the formula. Adding in a sweet sugar (like corn syrup) evens out this taste and makes the formula taste more like breast milk.
So here's the summary of my thoughts about different sugars in baby formula …. And what to look for.
Look for lactose on the label – this is the sugar in breast milk

If you are feeding a partially or fully hydrolyzed protein, there WILL be some other sugar in it – usually a corn sugar (corn syrup or maltodextrin). I prefer maltodextrin over corn syrup since it's less sweet so your baby won't become trained to love super-sweet flavors

If your formula has corn sugar in it, try to find one with lactose in it as well – preferably with lactose first on the list of ingredients. This is because formulas that are 100% corn-sugar have a higher glycemic index and will force the baby's pancreas to work harder.

I don't like sucrose in formula due to the amount of fructose in it. If your formula does have sucrose in it, try to be sure it's not the only sugar. It would be even better if sucrose was later on the list of ingredients than the other sugars.
I hope that helps clear up some confusion around sugars in baby formula. It's complicated, right?! To find out more details about carbs in the most common formulas, you can read my article about baby formula carbs in Choosing Formula series.
Have any lingering questions? Leave them in the comments!
My best wishes to your precious family,
xo Dr. Young
---
References:
Chung M, Ma J, Patel K, Berger S, Lau J, Lichtenstein A. Fructose, high-fructose corn syrup, sucrose, and nonalcoholic fatty liver disease or indexes of liver health: a systematic review and meta-analysis. Am J Clin Nutr. 2014 XXX 1-17.
Havel P. Dietary Fructose: Implications for Dysregulation of Energy Homeostasis and Lipid/Carbohydrate Metabolism. Nutrition Reviews. 2005; 63 (5): 133-157.
Kelishadi R, Mansourian M, Heidari-Beni M. Association of fructose consumption and components of metabolic syndrome in human studies: A systematic review and meta-analysis. Nutrition 2014; 30:503-510.