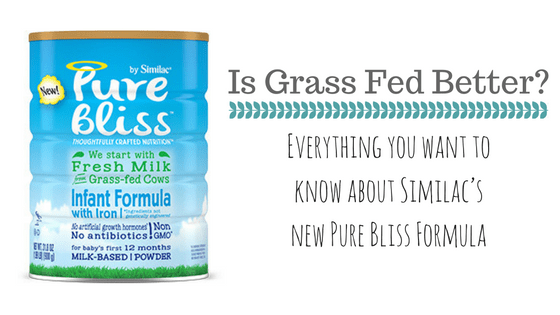 Similac has a new baby formula on the market: Similac Pure Bliss. I LOVE the name – so calming and reassuring! Haha! OK, so I actually do really love the name, but we all know the name means crap. What we care about is the list of ingredients and whether this formula might be the perfect choice for YOUR angel. So here's a breakdown of what you need to know about the formula, and how Pure Bliss compares to other baby formulas you are probably considering…
---
Want to watch the Happy Hour I did about Pure Bliss? Here it is!

---
What Does Grass Fed Mean?
The big deal about Similac Bliss is – it's based on dairy from grass-fed cows. What does this mean? Well, it's hard since "grass-fed" is not a regulated term. It just means that the cows ate grass for a few months of their lives.
This could be dried grass in a trough inside. However, the Similac website does say that their cows do actually graze outside on grass most of the year (due to weather). This actually is pretty impressive! It will make for much happier cows.
Lots of dairy and feed-lots don't allow cows much time to exercise and feed them corn, or soy, or grain (since it's cheaper). This makes for sick cows that are more likely to need antibiotics.
Will Grass Fed Cows make better milk for Infant Formula?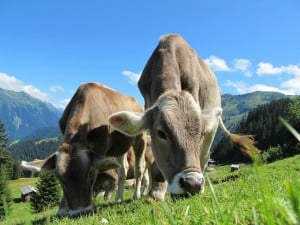 So, the cows that make the dairy base of Pure Bliss are happier than other formula's cows. Will this matter when it comes to the formula? From a strictly research-based perspective – I don't think so ….
Here's the thing: when cows get to eat grass instead of corn (or grain), they have a much healthier fat content in their milk. Grass-fed cows make milk with more healthy omega-3 fats (1). This is well documented. BUT, baby formula uses nonfat milk as a base, so all that healthy at from grass-fed cows is removed
It's mostly the protein that goes into the formula. We don't have any research currently to suggest that the protein content of grass-fed cows is any different than other cows. So, the nutritional value of grass-fed vs. conventional-dairy based formula is the same.
But I want to add a non-research based thought. We do know that grass-fed cows are healthier and "happier". They will be less-sick, and are less likely to have inflammation, and toxins in their body. I personally think this will trickle down into their milk.
I think it is likely that there are differences in certain molecules in the milk (like inflammatory and stress-related proteins) that we just don't measure. I've got NO RESEARCH to back that up – just my opinion. You can make your own call here as the expert on YOUR baby and your family.
Pure Bliss starts with "fresh" milk
The other big selling point that Pure Bliss makes is – they start with "fresh" milk. This means they start with liquid skim milk from cows, as opposed to dry skim milk powder. I have no idea why this would matter at all. You buy Pure Bliss in a powder form just like all other formula. So, even though they may start with "fresh" dehydrate the formula back into a powder before selling it to you! So, while this sounds nice … (I mean the word "fresh" always brings up lovely images in your head) …. I have no idea why it would make a difference in terms of your baby's health.
How do the Ingredients stack up:
Here are the ingredients for Similac Pure Bliss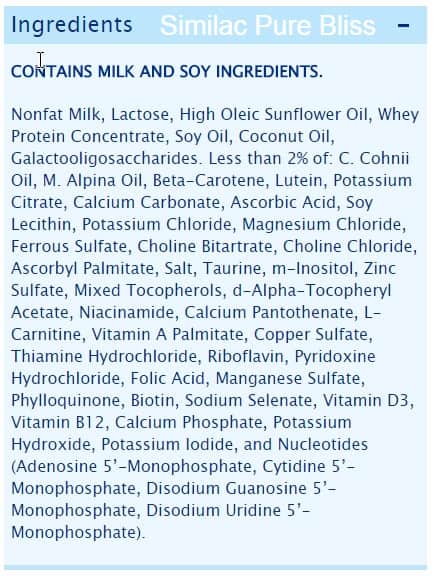 In short – I think this is a great formula!
It has extra whey to make the whey:casein ratio more like breast milk. It's got no Palm oil. It DOES have DHA and ARA (C. Cohnii Oil & M. Alpina Oil) and nucleotides – which I really like in a formula for newborns. It's got no glucose-sugar added, and it has a prebiotic (galactooligosaccharides).
Awesome! I think this is a great formula.
If you are deciding on a formula to start with, you'll likely want to know how Pure Bliss compares with other competing formulas, here's how Pure Bliss stacks up:
Similac Pure Bliss vs. Similac Advance: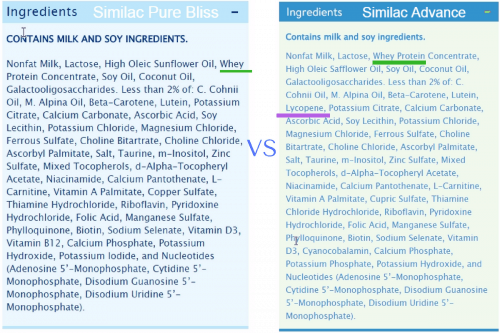 Breakdown: Similac Pure Bliss and Similac Advance are almost identical!! Here are the ONLY differences:
Pure Bliss comes from "happy cows" (aka: grass-fed). We have no idea what the cow's that make Advance eat (so I'm guessing it's probably not grass).
Pure Bliss has whey protein listed lower on the list of ingredients (4th vs 3rd, highlighted in green above). What does this mean? It either means that Pure Bliss has a tiny bit more whey (which is fine) – but this is impossible to know really, since we don't know the concentration of the ingredients listed. In short – I don't think this difference really means anything.
Pure Bliss does NOT have Lycopene. This is one of those designer ingredients that is not required.
Similac Pure Bliss vs. Similac Organic: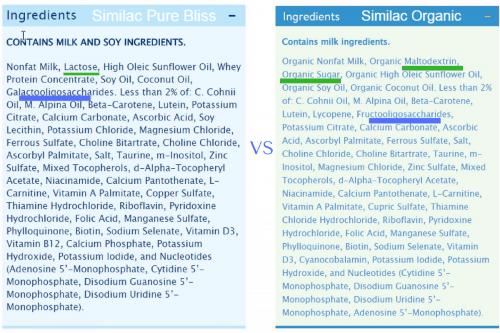 Breakdown: Similac Pure Bliss is NOT organic! So if organic is important to you, then Pure Bliss is not the best choice. Otherwise, Similac Pure Bliss and Organic are very different formulas. Here is the summary of differences:
Pure Bliss comes from "happy cows" (aka: grass-fed), but is NOT organic. We have no idea what the cow's that make Organic eat (so I'm guessing it's probably not grass).
Similac Organic has VERY different carbohydrate sources than Pure Bliss (underlined in green). Organic has two different non-lactose sugars added: Maltodextrin (which is glucose) and sugar (which is a molecule of glucose and fructose combined). These are very different from the lactose in Pure Bliss (and breast milk).
These two have different prebiotics. Pure Bliss has galactooligosaccharides. Organic has Pure Bliss has fructooligosaccharides. This isn't that big of a deal. However, Organic has less prebiotic than Pure Bliss. You can tell because it's farther down on the list of ingredients (underlined in blue).
Pure Bliss does NOT have any lycopene, and Organic does.
Summary:
In short, I like Pure Bliss – but you have to decide what characteristics of a baby formula are most important to you and your family (organic? Happy cows? A prebiotic? Extra whey? You get it … ).
When making a formula decision, remember: YOU are the expert on your own baby… trust your gut. I hope this article simply provides your gut with more information about your options.
Have you tried Pure Bliss? I would LOVE to know how your baby did with it? Let me know in the comments!
Wishing you lots of baby coos and snuggles,
xo Dr Young
---
References:
Bainbridge ML, Egolf E, Barlow JW, Alvez JP, Roman J, Kraft J. Milk from cows grazing on cool-season pastures provides an enhanced profile of bioactive fatty acids compared to those grazed don a monoculture of pearl millet. Food Chem 2017; Feb 15; 217:750-755.