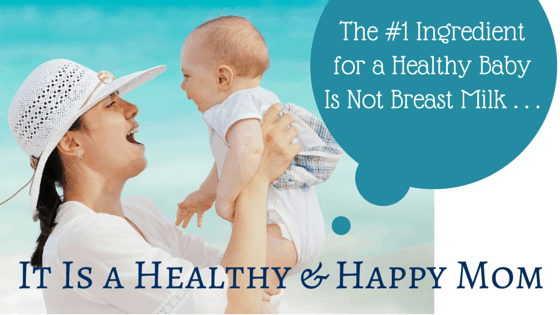 It is my professional opinion that the #1 ingredient for a healthy baby is not mother's milk … it is a healthy and happy mother!
I am a lactation professional and a breastfeeding advocate.  So, what I am about to tell you is likely to get me into some hot water with several breastfeeding organizations.
It is my professional opinion that the #1 ingredient for a healthy baby is not mother's milk … it is a healthy and happy mother!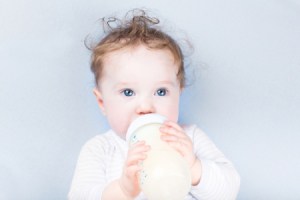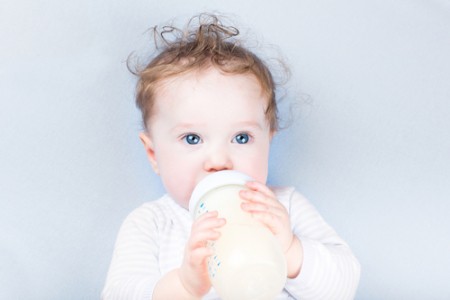 Let me tell you a quick story.  I had a patient Lilly, who was a new mother of 2-weeks to precious baby Adelai.  Lilly fit many stereotype of an earth-Mama.  She was passionate about having a medication-free delivery, and was successful!  She had read countless books while pregnant and was devoted to creating the perfect organic life for her little angel.  She, obviously, was determined to breastfeed for at least 12 months.  14 days after Adelai was born, the two of them were still having serious difficulty with breastfeeding.  Lilly was determined to breastfeed "even if it killed her".  When I saw Lilly in person (we had spoken on the phone several times before then), she did not look well. Every mother of a 2-week old is un-showered and sleep-deprived, but Lilly was more seriously worn.  Adelai was not gaining weight well and the emotional stress, constant worry, self-inflicted guilt, and sheer effort to pumping was clearly draining Lilly.  In short, she was defeated and had lost her spark … and it was affecting her baby.
Babies are extremely intuitive and emotional creatures, especially sensitive to the moods of their mothers.  How often have you handed your baby over to that relative who protests "babies hate me!"  just to see that it's true!  This is because if you are anxious or nervous …. or resentful or angry …. A baby can sense that negative energy and will react.  This is why babies often DO begin to cry when they are given to a person who is nervous or anxious.  It is a self-fulfilling prophesy.
Lilly's self-sacrificial attitude is practically universal in new mothers.  They will make themselves zombies if they think it will have the least benefit to their baby.  This is the amazing nature of motherhood.  However, Moms need to understand how much their health matters to their little baby!  That baby needs you to be alert, interactive, and calm when you cuddle.  S/he is depending on you for emotional stability and feelings of love that or un-interrupted by worry or resentment.  In other words, your baby is depending on you to take care of yourself so that you can properly care for your baby.
Babies often DO begin to cry when they are given to a person who is nervous or anxious.  It is a self-fulfilling prophesy.
Another common but less talked-about scenario is Emily's story.  Emily is a mother of 3 boys, all under the age of 4.  Aden, her 3 month old son, is still exclusively breastfed.  He is healthy and growing well, but still nurses roughly 8 times per day and every night at 3AM.  Emily's 4-year old boy, Tyler, has mild autism and she provides full-time care for all 3 boys.   She would never admit it out loud, but Emily is struggling bonding with Aden.  Mostly due to the sheer exhaustion of her responsibilities and interrupted sleep, she is often resentful of having to nurse so frequently and being the only source of food for Aden.  When she has these feelings, she then feels very guilty and commits herself to being a martyr for her boys.  However, Aden picks up on these emotions of resentment, anxiety and guilt and it affects his temperament.  Additionally, her constant self-inflicted guilt and shame about her feelings don't improve her ability to bond with him.  This helps perpetuates the cycle.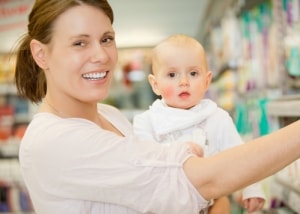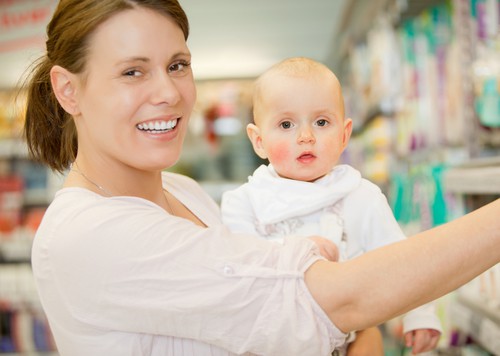 Emily's story is not as unusual as you may think.  With postpartum hormones affecting mother's moods, emotions like frustration, resentment, anxiety and depression are common.  We simply don't talk about it enough!  Here is my issue. If providing some formula will ease some of this strain and improve maternal mood and her ability to bond with her child, the benefits outweigh the risk!
Both of these women were NOT helping their babies by killing themselves in their breastfeeding efforts.
After bravely confiding in a good girlfriend, Emily decided to start providing Aden with a bottle of formula for his 3AM feeding a few days a week.  Daddy could handle this.  The few nights of uninterrupted sleep were like a miracle for her whole family.  She was better able to care for all 3 of her boys.  After 3 weeks of better sleep, she was finally able to look at Aden with the adoring coos she had always wished for.
And remember Lilly?  She also decided to provide Adelai with a little formula twice a day after nursing to be sure she was receiving enough calories to grow.  After receiving my "permission" to do this, she seemed to collapse in relief. Of course she never needed my permission at all.  But, but she had placed so much pressure on herself to provide nothing but breastmilk that it became an all-consuming issue for her.   Hearing my support of her decision seemed to breathe new life into her.  I followed up 1 –week later and Lilly and Adelai were new women.  Lilly was still nursing several times a day and providing three bottles.  She was a totally different woman.  She had regained her old spark and positive outlook and this change noticeably affected her interaction with Adelai as well.
Again, I'll state that I am a die-hard breastfeeding advocate.  However, I truly believe that there are many scenarios when providing some formula relieves so much maternal stress and anxiety that they are better mothers for it! This was definitely the case for both Lilly and Emily.   The natural self-sacrificing tendency of all mothers combined with societal pressures to breastfeed and unrealistic social ideals of the modern super-women, mixed all-together with postpartum hormones is the perfect recipe for a defeated mother.  Your baby deserves a healthy happy mother, not a defeated one.  The lactation-police may take me away in handcuffs for saying it, but I'll repeat:
The #1 ingredient for a healthy baby is not mother's milk … it is a healthy and happy mother!
I know this may be a controversial idea… I would love to hear your opinions and stories in the comments below.