Do you need to feed an age-specific formula? And what's the difference between Newborn vs. Infant vs. Toddler Formula? Today I will try to help you decide if an age-specific formula is legit.
So you're feeding formula and your baby just turned 4 months old. You just opened a new can of your "Newborn" formula and realize that it says "for 0 – 3 months. Crap. The dang can cost $25! You go on Amazon to have the "Infant" version shipped to you overnight (cause there is no way you're getting your 4 month old to the store today!).
Then you realize the "Infant" version says "for 0 – 12 months". What the heck? Should you have been feeding that to begin with? Can you avoid the overnight charges and save the $25?? Well let me help you answer these questions!
---
I addressed this issue of age-specific formulas on a happy-hour Q&A:
---
The short answer is – IT DOESN'T MATTER!! I think age-specific formula is a marketing ploy to get you to buy a new can before the old one is finished. Enter my motto:
The only thing that should matter to you is the list of ingredients!
Let me walk you through a few examples so you understand why I say it's all just marketing. I'm going to pick on Enfamil. I don't have a problem with them as a brand but do not like how they market to different age groups
Enfamil has a formula for:
"Newborns" age 0 – 3 months
"Infant" age 0 – 12 months
"Supplementing" (breastfed babies) age 0 – 12 months
"Toddler" age 9 – 18 months
First off, remember that the FDA has specific guidelines on nutrient ingredients that are required for any product called "formula". Everything marketed as baby formula must meet these guidelines – including toddler formula! Let's look a little deeper at the individual formulas.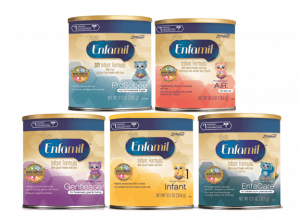 Enfamil Newborn Vs. Infant:
These two formulas are virtually IDENTICAL except for the following differences:
1) The "Infant" has 60 IU of vitamin D and the "Newborn" has 75 IU. This difference is practically nothing – both are more than enough vitamin D for a new baby.
2) Both formulas have two prebiotics in them (Polydextrose, and galacto-oligosaccharides). The order of these prebiotics is different on the list of ingredients:
"Newborn" lists: "Galacto-oligosaccharides, Polydextrose"
"Infant" lists: "Polydextrose, Galacto-oligosaccharides".
This mean the "Newborn" likely has a tiny bit more Galacto-oligosaccharides and the "Infant" probably has a tiny bit more Polydextrose. Do I think this matters at all? Nope! Worth ignoring.
That means these differences add up to nothing. I consider these formulas identical.
Enfamil For Supplementing vs. Infant
Enfamil for Supplementing is a little different than the other two. Is it really better for infants who are also getting breast milk? No. You can read all about what I think of formula marketed for breastfed infants here.
Here is how Enfamil For Supplementing compares to Infant.
1) For Supplementing has 75 IU of vitamin D (the same as Enfamil Newborn)
2) For Supplementing is a partially hydrolyzed protein source. This is a BIG difference, and I like it.
3) For Supplementing has NO lactose. 100% of the carbohydrates come from corn syrup solids (uggh). Both Newborn and Infant have no corn syrup solids.
4) For Supplementing has NO prebiotic in it. This is probably because breast milk has lots of natural prebiotics, but I'd still like to see it in any formula.
Enfamil Toddler Formula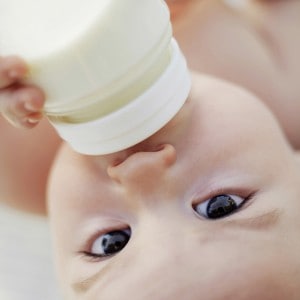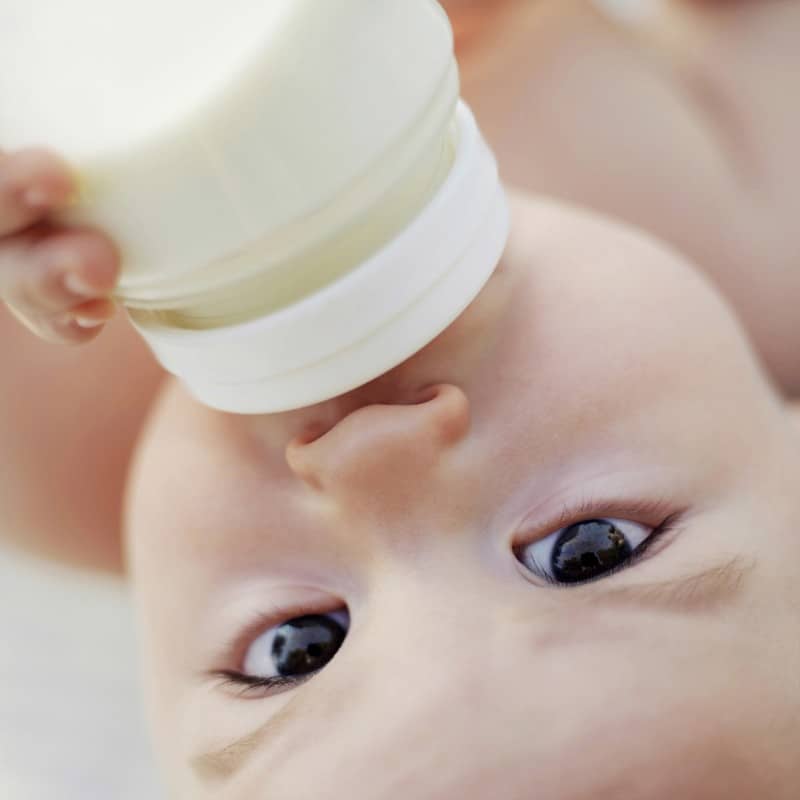 Toddlers are also eating table food, so I do think there is room for a toddler specific-formula. However, I don't think Enfamil's toddler formula really hits the mark. Here's how it differs from the standard infant formula:
Toddler has extra corn syrup solids added, even though the protein is not hydrolyzed – uggh.
Toddler has 200 mg calcium (per 100 cal). This is a ton! To put this in perspective: breast milk has around 50 mg and cow's milk has about 180 mg. This is a crazy amount of calcium and seems a bit excessive to me.
It has slightly lower protein and slightly higher carbohydrates than Infant, but both are within the acceptable range, so I don't think this is that big of a difference in the grant scheme for babies that are also receiving solid foods.
In short, I don't really like this formula. If your baby is under a year, stick with the Infant. If your baby is over a year, I actually prefer cow's milk – which is free of corn syrup.
Conclusion About Age-specific Formula: So my general mantra applies to this question too
Ignore the marketing and only pay attention to the list of ingredients.
You got this! Any other tips about age-specific formula to share with other parents? Leave them in the comments below.
xo Dr. Young